With around 50 positions from different nations and generations, the exhibition MULTILAYER – Vision 20/20 focuses on a current phenomenon in international 'concrete art': the multi-layered nature of representations in the picture plane.
At the same time and in the same place, different structures overlap in the paintings and drawings, which interact and yet remain individually recognisable.
The structural complexity formulates a central aspect of reality, that is the simultaneity of different processes. In the relationship between self-contained autonomy and interrelated coexistence, the space in between the picture levels is information in itself: here, a special depth and energy of its own is created and perceptible.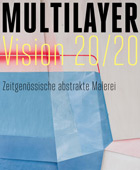 Artists:
Tim Allen (GB), Stefan Annerel (BE), Steven Baris (US), Dominic Beattie (GB), Nelleke Beltjens (NL), Wolfgang Berndt (DE), Monika Bertermann (DE), Andrew Bick (GB), Alain Biltereyst (BE), Britta Bogers (DE), Beti Bricelj (SL), Brice Brown (US), Lisa Corinne Davis (US), Dan Devening (US), Ursula-Lisa Deventer (DE), Edgar Diehl (DE), Mark Francis (GB), Luc Hoekx (BE), Vanessa Jackson (GB), Michael Jäger (DE), Claudia Kapellusch (DE), Jason Karolak (US), Bernd Kommnick (DE), Gerda Kruimer (NL), Antoine Langenieux-Villard (FR), Rudy Lanjouw (NL), Annekatrin Lemke (DE), Jai Llewellyn (GB), Jonas Maas (DE), Dóra Maurer (HU), Patrick Mifsud (GB), Laurence Noga (GB), Paul Pagk (US), Nina Pops (RS), Marlon Red (RO), Tim Renshaw (GB), Ivo Ringe (DE), James Ryan (GB), Julio Rondo (ES), Suzan Shutan (US), Sonita Singwi (US), Sandi Slone (US), Stephen Snoddy (GB), Elisabeth Sonneck (DE), Gary Stephan (US), Lorraine Tady (US), Dannielle Tegeder (US), Isabella Til (DE), Don Voisine (US), Thomas Weil (DE), András Wolsky (HU), Miro Zahra (DE)
MULTILAYER – Vision 20/20
Painting Exhibition in cooperation with the Foundation Conceptual Art, Soest
Opening on Saturday, 10 July 2021 at 17 a.m.
Greeting: Udo Rathke, director of the Künstlerhaus
To the exhibition: Ivo Rings and Juliane Rogge, curators
Music: Hidehisa Edane (pos.)
The opening takes place in the garden behind the castle.
(The current hygiene rules apply.)